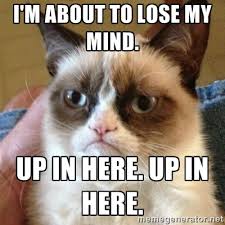 Take a deep breath. I know a lot of folks see something new post to this site and lose their minds because of how much they want the podcast to return. Don't lose your mind, leave that to Grumpy Cat.
Some Other Podcast is still not returning. That part hasn't changed. Some other things are changing so let's talk about those.
Hosting migration: My wonderful friend Carolyn has been gracious enough to host SOC for quite a while via her hosting plan. She is currently migrating all of her sites to another service and in that process I'm taking control of SOC hosting again. Over the next week I'll be moving the site hosting and sorting out what plan makes the most sense moving forward.
Developing a Plan: The way I see it I have three options for this website; 1) Kill it off all together 2) Pay for hosting but let it sit unused as an archive or 3) Develop some new content for this thing and move forward. I would really like to pursue option 3. I want to use this site to post my text reviews, link to YouTube and Streaming videos, and most likely start another podcast. Some Other Podcast will always exist as its own entity and I won't be touching it. If I start a new show it will have a new name and I will leave SOP alone. If hosting can support it I will leave the episodes up on this site so those of you who love them can access them. I will most likely remove them from iTunes so I can reuse the feed but we'll see if/when the time comes.
I'm having conversations with some folks because if I do move forward with more audio content I would like to have a pool of different people to work with. Multiple personalities and tastes would be refreshing and give the show a different feel. I'm still working on details and deciding what exactly I want to do here but I wanted to make you all aware of what was in my head. For now I'm going to move forward with migrating the site and hosting it on a modest plan. When I have some content details to share I'll let you all know what precisely is going on.
What I would really love is some feedback. Send me a message on Twitter or ideally post in the comments here and let me know what kinds of things you would like to see. What did you like about the podcast format previously? What kind of streaming/video forward do you guys like and want to see? How long is the optimal podcast length for you? Do you care about text content or does it not matter to you? The more information I can pull out of you guys the easier it is for me to marry what I want to do with what people actually care about. That has the best potential to make us all happy!
Thank you for all the support you guys have given. I can't tell you all enough how much your kind words and silly messages mean. Meeting and interacting with people has always been the reason I put myself out there online and you folks have all made it feel more than worthwhile.